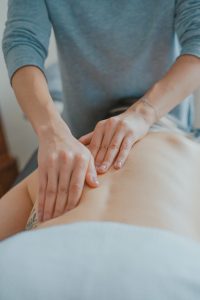 'Integrative medicine is a philosophy of healing that focuses on non-invasive therapies and lifestyle habits to enhance the body's ability to heal. At the Osher Center, we treat the whole person by offering an integrative treatment model that enhances primary medical care through a variety of healing treatments,' says Dr. Levy.

Most treatment plans start by examining a patient's lifestyle, including diet, exercise, sleep, stress reduction, and the daily habits around which people conduct their lives.
Brigham Health Hub published an interview with Osher Medical Director, Dr. Donald Levy, on the Osher Clinical Center's approach to care. The Osher Center is concerned with the health of the whole person instead of only focusing on the problem. A patient at the Osher Center can be treated with a combination of any of the following therapies:
Acupuncture
Chiropractic care
Therapeutic massage
Tai chi
Yoga
Meditation
Progressive muscle relaxation
Mindfulness-Based Stress Reduction
Read more on Dr. Levy and the Osher Clinic's healing approach- focused on self-care, education, and prevention: Treating the Whole Person with Integrative Medicine – Brigham Health Hub article
In this video (below), Donald B. Levy, MD, medical director of the Osher Clinical Center for Integrative Medicine, discusses how non-invasive therapies and lifestyle habits can enhance the body's natural ability to heal.