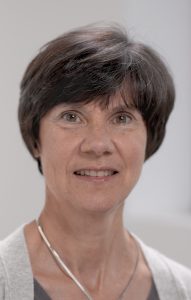 Dr. Langevin received an MD degree from McGill University, completed a post doctoral research fellowship in Neurochemistry at the MRC Neurochemical Pharmacology Unit in Cambridge, England, residency in Internal Medicine and fellowship in Endocrinology and Metabolism at Johns Hopkins Hospital.  She is a Professor in Residence of Medicine and Director of the Osher Center for Integrative Medicine at Harvard Medical School and Brigham and Women's Hospital.  She is also a Visiting Professor of Neurological Sciences at the University of Vermont College of Medicine.  Dr. Langevin has been the Principal Investigator of several NIH-funded studies investigating the role of connective tissue in low back pain and the mechanisms of acupuncture, manual and movement-based therapies.  Her previous studies in humans and animal models have shown that mechanical tissue stimulation during both tissue stretch and acupuncture causes dynamic cellular responses in connective tissue. Her current work focuses on the effects of stretching on inflammation resolution mechanisms within connective tissue.
Dr. Wayne is an Associate Professor of Medicine at Harvard Medical School and Brigham and Women's Hospital. He is the Research Director for the Osher Center for Integrative Medicine. Prior to this appointment, Dr. Wayne served as the Director of Tai Chi and Mind-Body Research Programs at the Osher Research Center, and as the founding Research Director at the New England School of Acupuncture.
The primary focus of Dr. Wayne's research is evaluating how mind-body and related complementary and alternative medicine practices clinically impact chronic health conditions, and understanding the physiological and psychological mechanisms underlying observed therapeutic effects. He has served as a principal or co-investigator on more than 20 NIH-funded studies. He has been involved in the design, conduct, analysis, and interpretation of clinical trials evaluating the safety and efficacy of Tai Chi exercise for balance disorders, heart failure, chronic obstructive pulmonary disease, osteoporosis, and depression, and trials evaluating acupuncture for stroke-related paralysis, hypertension, endometriosis, and chemoradiation-related immune and swallowing side effects in cancer patients. He currently serves as Principal Investigator (with Dr. Buring) of an NCCAM-funded grant on the Use and Effectiveness of a Model Integrative Care Clinic in an Academic Hospital, to characterize referral and practice patterns and aspects of communication and decision-making in the use of conventional and CAM therapies at the Osher Clinical Center at Brigham and Women's Hospital, as well as to evaluate the effectiveness of an integrative care team in the treatment of chronic low back pain.
Dr. Wayne is actively involved in the teaching and training of students and fellows in integrative medicine research. He served as Principal Investigator of an NCCAM-funded Developmental Center Grant at the New England School of Acupuncture for which the Harvard Medical School Osher Research Center served as primary academic advisor; the center supported a cross-institutional training program for acupuncture research. He currently serves as Faculty for the NIH T32 research training grant in Complementary and Integrative Medicine, funded by NCCAM, and is a mentor for multiple NCCAM career award recipients, including Dr. Weidong Lu, who is the first recipient of the NCCAM/Bernard Osher Foundation CAM Practitioner Research Career Development Award. Dr. Wayne is the author of the Harvard Medical School Guide to Tai Chi, published in 2013 by Harvard Health Publications and Shambala Press.
Dr. Donald B. Levy is Assistant Clinical Professor of Medicine at Harvard Medical School and the Medical Director of the Osher Clinical Center for Integrative Medicine at Brigham and Women's Hospital.
A graduate of New York Medical College (1981), Dr. Levy completed his residency at Mt. Auburn Hospital in 1984 and became Chief Medical Resident in 1985. He served as the Medical Director of the The Marino Center for Integrative Health in Cambridge, MA from 1998-1999 and was Physician-in-Charge of Integrative Medical Education from 1996-2007. Since 2003, he has served as the Medical Director of the Osher Center for Complementary and Integrative Medical Therapies at the Brigham and Women's Hospital. He has been active in teaching and curriculum development for many years, including teaching in Harvard Medical School's Patient-Doctor relationship courses; Introduction to Clinical Medicine; CME courses; Teaching Residents to Teach; and workshops on evaluation and feedback. Dr. Levy is the recipient of numerous awards for excellence in teaching and has citations both for excellence in patient care and in patient satisfaction surveys.
Dr. Levy's current professional interests include the rational use of dietary herbs and supplements, the power of an effective patient-doctor relationship and the integration of the scientific advances in modern medicine with the rediscovery and implementation of age-old therapies and the principles of healing.
Dr. Mehta received his BA in Biology from Illinois Wesleyan University and an MD from University of Texas-Southwestern Medical School. He completed his residency in internal medicine at University of Illinois-Chicago Hospital. He completed a clinical research fellowship in complementary and integrative medicine at the Harvard Medical School Osher Research Center (now based at the Beth Israel Deaconess Medical Center Division of General Medicine), during which he received a Master of Public Health degree from the Harvard School of Public Health.
He is the medical director of the Benson-Henry Institute for Mind Body Medicine at MGH. His educational and research interests include curricular development in complementary and integrative medical therapies, mind/body educational interventions in health professions training, and promotion of professionalism in medical trainees. He directs medical student and resident rotational experiences in integrative medicine for BHI-MGH and the Osher Center for Integrative Medicine. Dr. Mehta sees patients in a consultative role for use of complementary and integrative medical therapies, as well as mind/body interventions for stress management and stress reduction.
Dr. Mehta is an Instructor in Medicine at Harvard Medical School. He is also active in the Massachusetts Medical Society, and is a member of the American College of Physicians. Dr. Mehta is a diplomate of the American Board of Holistic Medicine, and has completed professional training in mindfulness-based stress reduction at the University of Massachusetts Medical School.
Aterah Nusrat, MSc., Program Manager
Ms Nusrat graduated with a BSc. in Chemistry and Environmental Science from the UK, and received her MSc. in Environmental Technology from Imperial College, London University in 1997. She went on to work as a project manager for award-winning sustainability initiatives in the UK, prior to relocating to the US in 2007. Before joining the Osher Center in 2014, she led sales and marketing initiatives for meditation retreats in the US and Europe. She now combines her personal interest in meditation with her professional skill sets in marketing and program management to support the work of the Osher Center.
Since joining the Osher team, Ms Nusrat has successfully organized our signature biennial Integrative Medicine Network Forums, coordinated the delivery of the 2015 Joint Conference for Acupuncture, Oncology and Fascia, operationalized our monthly Integrative Medicine Grand Rounds, and continues to support and develop our virtual and in-person efforts at connecting Boston-based integrative medicine professionals.