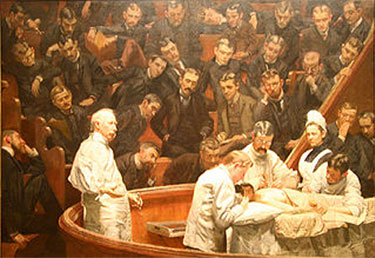 Acupuncture Therapy During Acute and Subacute Stroke Rehabilitation: Individualized treatment to support physical, occupational and speech/language therapy outcomes
Presenter: Claudia Citkovitz, PhD, LAc
Acupuncture therapy during inpatient stroke rehabilitation is inherently both individualized and integrative, as patients present with widely varying deficits. Acupuncture treatment goals are patient-centered, but also coordinated with the physical, occupational,  and speech therapists caring for the patient.
In this case, a patient suffering dense hemiparesis and expressive aphasia was seen across acute and subacute rehabilitation environments, with considerable variation in frequency of treatment (1-4 treatments per week) over the course of five weeks.  Speech therapists reported rapid progress from repetition of monosyllables to independent sentence generation, with rate of recovery appearing to coincide with periods of more frequent treatment.  Following three treatments focusing on shoulder range of motion at the request of the Occupational therapist, the therapist reported a change from 90 to 130 degrees.
The patient, his family, and the team of doctors involved in his stroke rehabilitation gathered after an impressive presentation highlighting the patient's progress throughout his treatment. Shortly after, they joined the audience members for the Integrative Medicine Grand Rounds coffee hour to answer questions and continue their discussion.
---
Presenter: Claudia Citkovitz, PhD, LAc., has led the Acupuncture Service at NYU Lutheran since 2004, supervising 10 acupuncturists who provide inpatient care and clinical instruction in the areas of neurological and orthopedic rehabilitation, labor and delivery, and pain management. Dr. Citkovitz studied acupuncture at the Pacific and Tri-State colleges in New York, and Chinese language in Beijing.  An internationally known lecturer on acupuncture practice and research methodology, she is a faculty member of the Pacific College of Oriental Medicine and the New England School of Acupuncture at MCPHS University.
Her PhD study on acupuncture during acute stroke rehabilitation was the first conducted in the United States, as was her 2006 study of acupuncture during labor and delivery. Dr. Citkovitz is a frequent peer reviewer for academic journals and an Editorial Board member of the Journal of Alternative and Complementary Medicine as well as Meridians, the journal of the National Certification Commission for Acupuncture and Oriental Medicine (NCCAOM).  She is a past member of the NCCAOM's Blue Ribbon Task Force on Hospital Based Acupuncture, and Touro College's Institutional Review Board.
---
Discussant: Jasmine Tam, M.S., OTR/L , was originally born and raised in Hong Kong, China. She immigrated to United States and settled in New York where she completed her undergraduate degree in Psychology at City University of New York- City College. She further pursued a Master degree in occupational therapy at State University of New York- Downstate Medical Center. She has shown particular interest in working with geriatric population at both home care and sub-acute settings. Jasmine joined New York University- Langone Augustana in December, 2016. She has been extensively trained in working with adults who exhibit orthopedic and/or neurological impairments. She has been serving bilingual Chinese patients at Augustana as she is fluent in both Cantonese and Mandarin languages.
---
Discussant: Lauren Glokler, M.S. CCC-SLP, is a speech language pathologist practicing with the adult and geriatric population in NYU Langone Hospital-Brooklyn's subacute and long term care facilities. Her work has focused on the evaluation and rehabilitation of patients with dysphagia, aphasia, speech, language, and/or cognitive disorders, apraxia, dysarthria, fluency and voice disorders resulting from neurological disorders including stroke, brain cancer, TBI, Parkinson's disease, dementia and cardiopulmonary diseases. She co-facilitates a monthly stroke support group for inpatient and outpatient members. And she provides the Lee Silverman Voice Treatment (LSVT) to people afflicted with Parkinson's disease.
---
Discussant: Stephanie Wu, PT, DPT, is a Doctor of physical therapy, graduating from Long Island University.  She currently works in a sub-acute rehabilitation setting in NYU Langone Augustana Rehabilitation. Dr. Wu has always maintained a strong passion for treating neurological conditions. She is also a candidate to be a board certified Neurological Clinical Specialist by ABPTS. Her approach to treatment applies dynamic and varied evidence based treatments to achieve a patient's maximum potential and result in rehab. As a clinical physical therapist, she also continuously mentors soon to be therapists to apply the same approach adapted to their ability to maximize their education in treating neurological conditions.
Download the September Grand Rounds Flier
Resources
Read: Blood Stasis in the Brain: An Integrative Approach to the Treatment of Stroke, Citkovitz, Journal of Chinese Medicine, No.113, February 2017
Watch: Presentation at the ARRC (Acupuncture Research Resource Center Symposium, 2016, UK) (45 min): Individualised acupuncture treatments during stroke rehabilitation, Claudia Citkovitz

Read: PhD Thesis: Acupuncture during Acute Stroke Rehabilitation:  Development of a Manual for Researching a Complex Intervention.

Integrative Medicine Grand Rounds/ Clinical
Tuesday, September 5th, 2017
8:00am – 9:00am (followed by coffee hour)
Bornstein Family Amphitheater
45 Francis St. BWH, Boston, MA
Directions