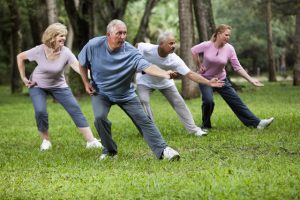 Tai Chi for PD
With roots in traditional Chinese medicine, Tai Chi is a therapeutic mind-body exercise that integrates gentle movements, rhythmic breathing, and imagery. Tai Chi is practiced to improve strength, balance, flexibility, mental focus, and emotional tranquility.
Tai Chi is increasingly being utilized as part of comprehensive health rehabilitation and prevention programs. New research suggests Tai Chi may have important benefits for individuals with Parkinson's disease. The class is designed for people who are able to stand for the 60-minute program.
Space is limited and registration is required.
Please contact Jamasb Sayadi at [email protected] or 617-667-5215.
Dates
Mondays, April 2 – June 4
(no classes April 16, May 28)
10:50 a.m. – 11:50 a.m.
Cost
$100 (1 class/week, 8 total)
Location
Tanger BeWell Center, East Campus
Shapiro Building Lower Level
Beth Israel Deaconess Medical Center
330 Brookline Ave.
Boston, MA 02215
Instructor
Stanwood Chang