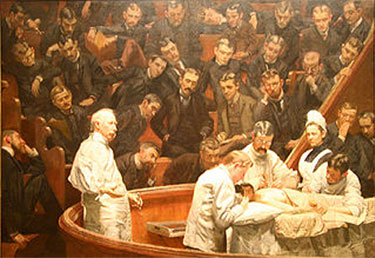 Title: "Are physiological outcomes better than psychological outcomes to differentiate real and sham acupuncture? A carpal tunnel syndrome neuroimaging study."
Presenter: Dr. Vitaly Napadow, PhD, LAc., Director, Center for Integrative Pain Neuroimagaing (CiPNI), Martinos Center for Biomedical Imaging, Massachusetts General Hospital, Harvard Medical School.
In this presentation, Dr. Napadow discussed the role of brain neuroplasticity in acupuncture treatment of carpal tunnel syndrome and how physiological outcomes allow for a better differentiation of real and sham acupuncture in research studies of acupuncture for chronic pain. Dr. Napadow's recent neuroimaging study on this topic, published in the journal Brain, was reported throughout the popular press including The New York Times, Time magazine, Boston Magazine, and Popular Science.
Integrative Medicine Grand Rounds/Clinical
Tuesday, June 6th
8:00am – 9:00am (followed by coffee hour)
Bornstein Family Amphitheater
45 Francis St. BWH, Boston, MA
Directions
Biography
Dr. Vitaly Napadow is an associate professor at the Martinos Center for Biomedical Imaging at Massachusetts General Hospital and Harvard Medical School in Boston, MA. He holds secondary appointments in the Pain Management Center at Brigham and Women's Hospital and Logan University. Vitaly received his Ph.D. in biomedical engineering from the Harvard-MIT Health Sciences and Technology program and a Masters degree from the New England School of Acupuncture (NESA). His laboratory has pioneered the application of non-invasive neuroimaging techniques to better understand the brain circuitry underlying aversive perceptual states, and to better understand how therapies such as acupuncture ameliorate these states. Vitaly is the Director of the Center for Integrative Pain NeuroImaging (CiPNI) and the co-President of the Society for Acupuncture Research, a non-profit research organization responsible for organizing the premier international biennial conference dedicated to evidence-based acupuncture research.
Resources:
Read: Rewiring the primary somatosensory cortex in carpal tunnel syndrome with acupuncture, Brain (2017) 140 (4): 914-927, DOI: https://doi.org/10.1093/brain/awx015
Download: June 2017 Grand Rounds flier
Visit: The Athinoula A. Martinos Center for Biomedical Imaging at MGH