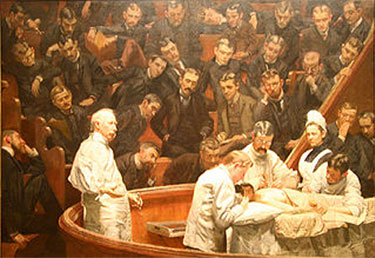 Dr. Maria Broderick from Boston University School of Medicine, and a faculty member of NESA (New England School of Acupuncture) lead the March installment for the Integrative Medicine Grand Rounds. She was accompanied by co-presenter and MAc candidate, Emilie Gerber, and discussant, Dr. Meenakshi Kumar from Boston University School of Medicine.
Clinical Case Presentation: "Wild is the wind": Acupuncture treatment for spontaneous trigeminal paresthesia in an adolescent girl treated in a safety net hospital teaching clinic.
"Trigeminal neuralgia is a condition characterized by pain coming from the trigeminal nerve, which affects the face — most commonly one side of the jaw or cheek.

The pain of trigeminal neuralgia is unlike facial pain caused by other problems. It is often described as stabbing, lancinating or electrical in sensation and so severe that the affected person cannot eat or drink." John Hopkins Medicine, Health Library
(Co-Pr
esenter) Maria Broderick, EdD, MAOM LicAc is Associate Professor and Director of Clinical Education at the New England School of Acupuncture/MCPHS. She precepts the pediatric acupuncture program at Boston Medical Center. Previously, she served as Program Director for the Program in Integrative Medicine and Health Disparities at Boston Medical Center.  She holds a Master's degree in Oriental Medicine from the New England School of Acupuncture, and a Doctoral degree in Human Development and Psychology from Harvard University, where she was appointed a Post-Doctoral Fellow and served on the faculty as a Lecturer in Education. She is a Schweitzer Fellow for Life.
(Co-Presenter) Emilie Gerber is a candidate for MAc., New England School of Acupuncture/MCPHS. After studying Biology at the University of Massachusetts Amherst, Emilie was drawn to the healing and ancient art form of Eastern Medicine and Acupuncture. She is currently a third-year Master's candidate at the New England School of Acupuncture at MCPHS University and is fulfilling clinical requirements at Boston Medical Center, Lemuel Shattuck Hospital, and the NESA Teaching Clinic. Upon graduation and licensure, Emilie hopes to pursue a career in integrative medicine focusing on bridging Eastern Medicine to a western understanding in a hospital setting as well as private practice.
(Discussant) Meenakshi Kumar, MD is an assistant professor at the Boston University School of Medicine and practices Family Medicine and Functional Medicine at the South Boston Health/Seaport Community Health Center.  Dr. Kumar was trained at Manipal Academy, Karnataka, India and completed her residency at Family Medicine at Resurrection Health Care, Evanston, IL; Fellowship-Palliative Medicine. She has special interests in Integrative Health, Palliative Care, Ayurveda, Nutrition-Food as Medicine, Mind-Body Medicine and the impact of stress on chronic illness.