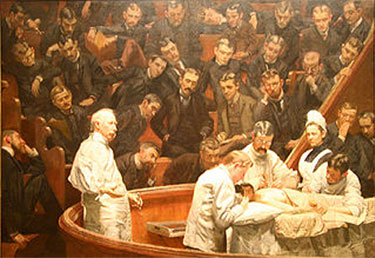 "Addressing Symptom Burden in Patients with Cardiac Arrhythmias: A SMART approach in a 75 y.o. woman with paraoxsymal atrial fibrillation."
Presenter: Michelle Dossett. MD, PhD, MPH, Assistant Physician, Benson-Henry Institute for Mind Body Medicine and Division of General Internal Medicine at Massachusetts General Hospital
Discussant: Kevin Heist, MD, PhD, Director, Clinical Cardiac Electrophysiology Fellowship Program, Massachusetts General Hospital
Drs. Dossett and Heist presented a case of a woman with paroxysmal atrial fibrillation who participated in a Stress Management and Resiliency Training Program at the Benson-Henry Institute for Mind Body Medicine and discussed the role of resiliency tools for patients with cardiac arrhythmias such as atrial fibrillation.
Integrative Medicine Grand Rounds/Clinical
Tuesday, May 2nd
8:00am – 9:00am (followed by coffee hour)
Bornstein Family Amphitheater
45 Francis St. BWH, Boston, MA
Directions
Dr. Dossett received her MD and PhD in immunology from the University of Washington in Seattle. She completed her internship and residency in internal medicine and research fellowship in complementary and integrative medicine at Beth Israel Deaconess Medical Center and received a MPH degree from the Harvard School of Public Health. Dr. Dossett sees patients at the Benson-Henry Institute for Mind Body Medicine at Massachusetts General Hospital and conducts research in mind-body medicine, the therapeutic effect of the patient-clinician relationship, and provider well-being.
Dr. Heist received his MD and PhD degrees from Stanford University School of Medicine, and received an MMSc degree from the Harvard/MIT Health Sciences Training Program. He completed his Internal Medicine Residency at UC San Francisco, and he then completed Fellowships in both Cardiolovascular Disease and Clinical Cardiac Electrophysiology at Massachusetts General Hospital. He is board certified in Cardiovascular Disease and Clinical Cardiac Electrophysiology. He is currently an Associate Professor of Medicine at Harvard Medical School and an Associate Physician in Cardiology and Cardiac Electrophysiology at MGH.  He is the Program Director for the Clinical Cardiac Electrophysiology Fellowship at MGH.
Resources:
Download: Grand Rounds Flier
Visit: Stress Management and Resiliency Training (SMART) at BHI
Acknowledgments:
The presenters would like to acknowledge the generous support of the Harold Grinspoon Charitable Foundation and Drs. Jeremy Ruskin, John Denninger and their research teams. Together, they helped make possible the program in which the patient participated.