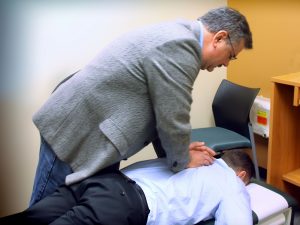 Description
This talk provided an overview of the Department of Veterans Affairs (VA) chiropractic program. Data from published work assessing barriers, facilitators and impacts of program implementation, along with data on chiropractic services characteristics and usage trends were presented. The talk also discussed ongoing work assessing correlations between chiropractic use and opioid use, and outcomes to various doses of chiropractic care.
Objectives
Describe the characteristics and trends in use of chiropractic services in the VA healthcare system
Explain the barriers and facilitators to program implementation
Recognize opportunities to improve access to evidence-based, non-pharmacological treatment options
---
Presenter
Anthony Lisi, DC is the Chiropractic Program Director for the US Veterans Health Administration, overseeing all national programmatic issues related to the integration of chiropractic clinical services, education and research. He is also an Associate Research Scientist at the Yale Center for Medical Informatics, Yale University School of Medicine. He has authored over 45 peer-reviewed publications on topics including low back pain management, spinal manipulation, interprofessional education, and chiropractic services.
Speaker Resources
---
Photos from the Event
---
Event Details
Date: Tuesday, October 2, 2018
Time: 8:00 am – 9:00 am (followed by Coffee Hour)
Venue: Bornstein Family Amphitheater, BWH
Address: 45 Francis Street, Boston, MA 02115