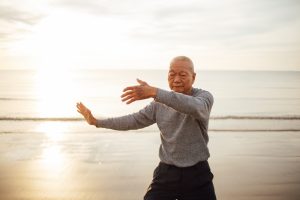 The Osher Center is pleased to sponsor this virtual Tai Chi workshop with Barry Friedman.
Barry Friedman is a long-term committed practitioner of Tai Chi and a graduate of the Tree of Life Tai Chi Center's teacher training certification program, based on the Harvard Medical School's Guide to Tai Chi and its Eight Active Ingredients of Tai Chi curriculum. In addition to conducting his own classes, Barry has been featured in sessions for MGH, the Cambridge Health Alliance's Center for Mindfulness and Compassion and at the Tree of Life Tai Chi Center. Barry brings his experience as a life-long soccer goalkeeper coach, providing a welcoming environment for the cultivation of fitness, health
and mental well-being.
Program: Saturday, August 7th from 9:00 AM – 12:00 PM.

Cost/Registration:
Non-employees may attend for a fee of $90.00 and can register by calling 617-732-9700.
Employees: Attendance is free for MGB employees and their immediate family members, thanks to the generous support of an MGB Systems Behavioral and Mental Health grant.
If you are an employee, register here to reserve a space or use this QR Code: