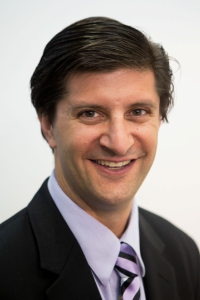 Read the following interview by Osher Program Coordinator, Emma Owings, with Osher's new Director of Nutrition and Supplements Research, Howard Sesso. Dr. Sesso's research focus is diet, lifestyle and health.
Q: What are your research interests and background?  
HS: Ever since my father had his first heart attack when he was 39, I have long been interested in diet, lifestyle and health. I was trained in public health, cardiovascular and nutritional epidemiology, but over time found great interest in the unique role of clinical trials to answer specific questions about dietary supplements, aging-related biomarkers, and health outcomes such as hypertension, cardiovascular disease, and cancer. 
Q: What are your current areas of focus and which of these do you imagine integrating into the work at the Osher Center? 
HS: Over the past decade or so, I have become particularly interested in the design and conduct of large- and small-scale clinical trials on dietary supplements for their effects on blood pressure, biomarkers, and other aging-related outcomes. I have investigated a multivitamin-multimineral supplement, cocoa extract, magnesium, vitamin C, vitamin E, and other supplements. These and other dietary supplements are commonly used by adults, yet definitive evidence for any benefits – or potential risks – remains poorly elucidated. This also extends to several other nutritional and lifestyle factors. My work on nutrition, supplements, and lifestyle directly integrates with the work and goals at the Osher Center, and I'm grateful for the opportunity to work with everyone. 
Q: What are some of the most impactful discoveries you've made?  
HS: There have only been two large-scale, long-term clinical trials that have tested the health effects of a typical multivitamin-multimineral supplement, and I have been fortunate enough to help lead both – the Physicians' Health Study II and the COcoa Supplement and Multivitamin Outcomes Study (COSMOS). Their results have shaped the recently updated guidelines from the U.S. Preventive Services Task Force. Our recently completed COSMOS trial also highlighted the potential cardiovascular benefits associated with cocoa and its bioactive components. I have utilized our large-scale trial cohorts at the BWH Division of Preventive Medicine to identify many important risk factors for developing hypertension.  
Q: Given your extensive knowledge on dietary supplements, what opportunities do you see for better integrating nutrition, diet and lifestyle interventions into medical care? 
HS: Behavior is integral to integrated medicine! Part of that process is to integrate fast and efficient evaluations of patients for their current diet and lifestyle. We can then offer reasonable recommendations to support healthy choices about their lifestyle and diet, whether that includes specific dietary supplements or not. 
Q: What is one fun fact about you that people would not expect?  
HS: My once-strong New Jersey accent has largely disappeared after being in California, Washington, DC, and now Boston over the last 3+ decades! 
Q: Any additional comments?  
HS: I am incredibly excited to join the Osher Center! My research and teaching interests have long aligned with the diverse talent and goals at Osher with the goal of improving health. 
Biography

Howard D. Sesso, ScD, MPH is an Associate Epidemiologist at the Division of Preventive Medicine at Brigham and Women's Hospital, Associate Professor of Medicine at Harvard Medical School, and Associate Professor of Epidemiology at the Harvard T.H. Chan School of Public Health. He leads the design and conduct of randomized clinical trials and epidemiologic studies, focusing on dietary supplements and lifestyle factors in the prevention of cardiovascular disease (CVD), hypertension, cancer, and other aging-related outcomes. Dr. Sesso is also the Associate Director of the Division of Preventive Medicine.
Dr. Sesso has led the Physicians' Health Study, consisting of trials testing aspirin, beta-carotene, vitamin E, vitamin C, and a multivitamin on aging-related outcomes in 29,071 men with long-term follow-up. Dr. Sesso is also examining vitamin D and fish oil supplements on 24-hour ambulatory blood pressure and hypertension in an ancillary study of the VITamin D and OmegA-3 TriaL (VITAL) trial.
Finally, Dr. Sesso is Co-Principal Investigator of the COcoa Supplement and Multivitamin Outcomes Study (COSMOS), a recently completed randomized trial testing cocoa flavanol and multivitamin supplements in the prevention of CVD and cancer in 21,442 older women and men. He has published more than 300 papers, teaches courses on clinical trials and epidemiology, and enjoys mentoring students and junior faculty.