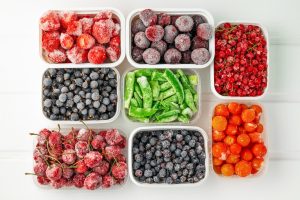 With social distancing measures still in place in most states as the COVID-19 pandemic rages on, many of us are trying to go grocery shopping less frequently or are reliant upon delivery services with unpredictable availability. Purchasing frozen and/or canned fruits and vegetables is an obvious way to stretch the time needed to restock your supplies while still filling half your plate with colorful produce at most meals. But are these foods really as healthy as those purchased fresh?
The short answer is: it depends. For those who are able to grow their own vegetables and/or purchase fruits and vegetables from local farms, fresh produce, eaten soon after purchase, has an edge in terms of getting the most "bang for your buck" nutritionally. But local produce availability is seasonally limited and buying local still doesn't solve the problem of making produce last for several weeks during a pandemic.
There can be some nutrient-loss associated with the canning and freezing process, but the same is true for home cooking methods like steaming, roasting or boiling. Fresh fruits and vegetables lose some of their nutrients to oxidation over time as they are stored and may not get to reach their full nutritional potential if they are picked unripe and shipped many miles to reach your grocery store shelves. In contrast, canning or freezing at peak ripeness, soon after harvest, may actually yield a product that is higher in nutrients. This helps to offset potential nutrient loss from processing.
A 2017 study looked at a range of vegetables and fruits, including broccoli, cauliflower, corn, green beans, green peas, spinach, blueberries, and strawberries. Each of these foods were analyzed for concentrations of vitamins C, A, and folic acid in three states: fresh, frozen, and fresh but refrigerated for 5 days ("fresh-stored"). In this study, there were no significant differences found in vitamin contents of these foods. Where there were differences found between frozen and fresh-stored options, the frozen foods "outperformed" the fresh-stored foods in terms of nutrient content. In other words, there were some small differences in nutrient content that varied by fruit or vegetable and nutrient, but any differences weren't so large as to significantly favor fresh over frozen, especially if fresh foods were to be stored.
My advice on this matter is simple: fruit and vegetables in any form are better than no fruits and vegetables. Colorful plant foods are packed with vitamins, minerals, fiber and phytonutrients, and most of us don't eat enough of them. In our house, we're on a two-week cycle, and tend to favor fresh, tender vegetables like leafy greens and fresh herbs during the week of our shopping trip, and then to rely more heavily on frozen produce like peas, broccoli, and cauliflower, and on "heartier" produce like root vegetables as we enter week two. We always keep the pantry well-stocked with canned beans, and almost always have frozen berries (and cauliflower!) on hand for smoothies.
Here are a few recipe ideas that use (or can be modified to use) frozen produce:
• Broccoli parmesan fritters from Smitten Kitchen. These work well with frozen broccoli, and can be made gluten-free by substituting chickpea or almond flour for regular flour.
• Pureed sweet peas from World's Healthiest Foods
• This green "juice" smoothie from FoodFash is a great use for frozen spinach and peaches.
• Roasted frozen broccoli from Well Plated
• Sausage and broccoli pasta from Budget Bytes
• 10 ways to make a meal out of frozen cauliflower from The Kitchn.
– Lindsay Keach Bronstein, MS, RD, LDN
Reference:
Li L, Pegg RB, Eitenmiller RR, Chun J, Kerrihard AL Selected nutrient analyses of fresh, fresh-stored, and frozen fruits and vegetables Journal of Food Composition and Analysis (2017)