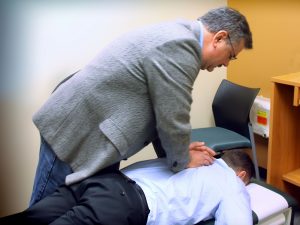 Over the past several years, the Osher Center has fostered a unique collaboration between chiropractic and neurology through pioneering research studies and innovative clinical programs.
Dr. Carolyn Bernstein, a widely-recognized neurologist based at the Osher Clinical Center, Dr. Peter Wayne, the interim director and research director and Osher, chiropractors, Drs. Matthew Kowalski and Thomas Mecke and Brigham and Women's Hospital's Division of Preventive Medicine Fellow, Dr. Pamela Rist, have been at the forefront of these efforts.
IMPACT (Integrative Migraine Pain Alleviation through Chiropractic Therapy) study: 
The IMPACT study has been conducted at the Osher Clinical Center over the past two years. It evaluates the effectiveness of a chiropractic care program in conjunction with conventional care compared to conventional care alone on migraine headache frequency and migraine related disability. The study has completed its target enrollment of 60 participants and data analysis is underway. Read below two recent publications resulting from this study.
Integrative Migraine Workshop Series
Small group Integrative migraine workshops have been offered by the Osher Clinical Center over the past two years. Class participants explore a combination of non-pharmacological treatments for headache management and self-care, including chiropractic care. Learn more about current classes offered at the OCC.
Osher After Dark
The growing partnership between cliniciancs at the Osher Center and neurology providers at
Brigham and Women's Hospital recently led to an 'Osher After Dark' event, whereby the Osher Clinical Center hosted physicians and staff from Brigham's Neurology Department at an informal 'sampler evening.' Amidst casual networking and refreshments the neurology team learned about and sampled different integrative medicine modalities offered at the Osher Clinical Center. Many 'aha' connections were made, and new ideas for research collaboration seeded.
Read the abstracts below for two recent publications resulting from the research studies at the OCC:
Integrating Chiropractic Care into the Treatment of Migraine Headaches in a Tertiary Care Hospital: A Case Series.
Global Advances in Health and Medicine. 2019, Mar 28;8.
Bernstein C, Wayne PM, Rist PM, Osypiuk, K, Hernandez, A, Kowalski, M
Short Abstract
This case series illustrates an integrated model of care for migraine that combines standard neurological care with chiropractic treatment. For each patient, we describe the rationale for referral, diagnosis by both the neurologist and chiropractor, the coordinated care plan, communication between the neurologist and chiropractor based on direct face-to-face "hallway" interaction, medical notes, team meetings, and clinical outcomes. Findings are evaluated within the broader context of the multicause nature of migraine and the impact of integrative chiropractic. Suggestions for future areas of research evaluating integrative approaches are discussed.
The Impact of Spinal Manipulation on Migraine Pain and Disability: A Systematic Review and Meta-Analysis.
Headache, The Journal of Head and Face Pain. 2019 Apr;59(4):532-542
Rist PM, Hernandez A, Bernstein C, Kowalski M, Osypiuk K, Vining R, Long CR, Goertz C, Song, R, Wayne PM
Abstract
Background
Several small studies have suggested that spinal manipulation may be an effective treatment for reducing migraine pain and disability. We performed a systematic review and meta‐analysis of published randomized clinical trials (RCTs) to evaluate the evidence regarding spinal manipulation as an alternative or integrative therapy in reducing migraine pain and disability.
Methods
PubMed and the Cochrane Library databases were searched for clinical trials that evaluated spinal manipulation and migraine‐related outcomes through April 2017. Search terms included: migraine, spinal manipulation, manual therapy, chiropractic, and osteopathic. Meta‐analytic methods were employed to estimate the effect sizes (Hedges' g) and heterogeneity (I2) for migraine days, pain, and disability. The methodological quality of retrieved studies was examined following the Cochrane Risk of Bias Tool.
Results
Our search identified 6 RCTs (pooled n = 677; range of n = 42‐218) eligible for meta‐analysis. Intervention duration ranged from 2 to 6 months; outcomes included measures of migraine days (primary outcome), migraine pain/intensity, and migraine disability. Methodological quality varied across the studies. For example, some studies received high or unclear bias scores for methodological features such as compliance, blinding, and completeness of outcome data. Due to high levels of heterogeneity when all 6 studies were included in the meta‐analysis, the 1 RCT performed only among chronic migraineurs was excluded. Heterogeneity across the remaining studies was low. We observed that spinal manipulation reduced migraine days with an overall small effect size (Hedges' g = −0.35, 95% CI: −0.53, −0.16, P < .001) as well as migraine pain/intensity.
Conclusions
Spinal manipulation may be an effective therapeutic technique to reduce migraine days and pain/intensity. However, given the limitations to studies included in this meta‐analysis, we consider these results to be preliminary. Methodologically rigorous, large‐scale RCTs are warranted to better inform the evidence base for spinal manipulation as a treatment for migraine.