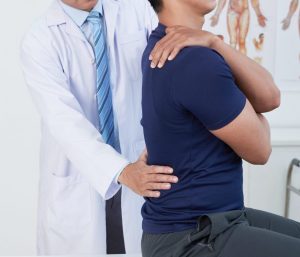 Low back pain (LBP) is common, disabling and costly. Recent American College of Physicians guidelines recommend nonpharmacologic treatments (e.g., acupuncture, massage, spinal manipulation) as safe and effective first-line approaches for LBP. However, integration of these treatments into large healthcare delivery systems is rare, and referrals from primary care to nonpharmacologic treatment in the community is uncommon.
This presentation used chiropractic care as an example of this care gap. Eric Roseen, DC, MSc  was joined by Samantha Simmons, MPH; Steven Atlas, MD, MPH; and Meena Kumar MD, a panel with expertise in back pain, primary care, and implementation science. They discussed barriers and implementation strategies to increase access to chiropractic care for LBP among patients initially seen by their primary care provider.
Resources:
Event Details:
Date/Time: Tuesday, April 6th | 8:00am – 9:00am
Cost: Free. CME credit available.
If you want to request CME credit for virtual participation, to be eligible, send an email between 8:00-8:30am on Tuesday, April 6th with your full name, degree and organization to [email protected]
Submit questions via the chat function on Zoom.
Trouble Shooting: If you have trouble with the live stream please email: [email protected]
Presenter: Eric J. Roseen, DC, MSc, Assistant Professor of Family Medicine, Boston University School of Medicine
Eric J. Roseen, DC, MSc is an assistant professor of family medicine at Boston University School of Medicine and a chiropractic physician at Joint Ventures Physical Therapy and Fitness.
Dr. Roseen's research has focused on the epidemiology of common musculoskeletal conditions, effectiveness of nonpharmacologic therapies for low back pain, and implementation of effective nonpharmacologic treatments for musculoskeletal pain in underserved communities. This work has aimed to provide evidence to inform policies that influence how musculoskeletal pain is managed in primary care settings.
Dr. Roseen's research is funded by NIH (National Center for Complementary and Integrative Health, National Institute of Childhood Health and Human Development), and The BU Center for Implementation and Improvement Science. He is the recipient of a NIH K23 Career Development Award, NIH National Research Service Award, and NIH Loan Repayment Program Award. Dr. Roseen has been recognized Internationally by early career researcher awards at the International Congress of Integrative Medicine and Health and the International Forum for Back and Neck Pain Research in Primary Care. He is an active member of the American Public Health Association, American Chiropractic Association, Academic Consortium for Integrative Medicine and Health, and the Society of Epidemiologic Research.
Dr. Roseen regularly lectures on complementary and integrative health and the epidemiology of common musculoskeletal conditions. He also enjoys mentoring graduate and undergraduate students interested in clinical research careers.
Dr. Roseen completed a clinical internship at Beth Israel Deaconess Hospital Plymouth, and has since practiced in multi-disciplinary primary care and rehabilitative settings. He received his doctor of chiropractic (DC) degree from the University of Western States in Portland, Oregon. He received his MSc degree in epidemiology from the Boston University School of Public Health. Dr. Roseen has additional research training through multiple competitive opportunities including the BU CTSI Clinical Research Training Program (CREST), NIDA-funded Fellow Immersion Training (FIT) in Addiction Medicine, and the NIH Training Institute for Dissemination and Implementation Research in Health (TIDIRH).