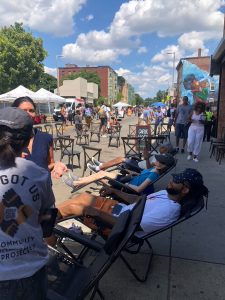 The Osher Center is proud to be supporting a local clinical research project which seeks to addresses disparities in accessing integrative medicine modalities in our community.
Small Steps Healing Project was launched in August to increase free access to integrative medicine for local historically marginalized communities through a pop-up clinic model. In the first two clinics, the project worked with the City of Boston's Open Streets Roxbury event and the Immigrant Family Services Institute in Mattapan to bring integrative medicine to over 50 community members, who were treated with acupuncture, sound healing, and/or reiki. 
Pre and post-service surveys were conducted and preliminary analysis reveals an overwhelming desire for, as one community member put it best, "treatments that are good for the body and mind." Patients reported lack of geographical and economic access as the biggest barriers to seeking integrative medicine. 
The project is led by Eana Meng, a MD-PhD student at Harvard Medical School, and Kareem King, a senior at Harvard College, with We Got Us, a Boston-born organization dedicated to empowering marginalized communities through health education and access. For more information about the project and additional clinic dates, please visit the project's website.
The project is currently seeking more practitioners. If you are a practitioner that would be interested in working with the project (compensated at $100/hr), please fill out the registration form on the project's website. For more information about the project, please reach out to Eana Meng at [email protected]. 
Photo credits: Small Steps Healing Project