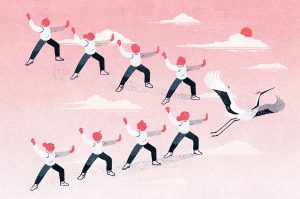 A New York Times article, published on September 10, 2018, cited and made mention of the Harvard Medical School Guide: "An Introduction to Tai Chi: A gentle exercise program for mental and physical well-being" and "Evidence Base of Clinical Studies on Tai Chi: A Bibliometric Analysis". Both the guide and publication on Tai Chi are authored by Osher Research Director, Peter Wayne, and others. The article summarizes some of the benefits of tai chi that were discussed in the research.
From the NY Times article:
"Tai chi moves can be easily learned and executed by people of all ages and states of health, even elderly people in wheelchairs."
"Much of the research, which was reviewed in 2015 by researchers at Beijing University and Harvard Medical School, has focused on how tai chi has helped people with a variety of medical problems. It is summarized in a new book from Harvard Health Publications, 'An Introduction to Tai Chi,' which includes the latest studies of healthy people whose mission was health preservation as well as people with conditions like high blood pressure, heart disease, diabetes, arthritis and osteoporosis".