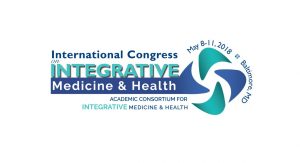 Collaboration in Action: Advancing Integrative Health through Research, Education, Clinical Practice and Policy
May 8-11, 2018 – Baltimore, MD
The 2018 International Congress on Integrative Medicine and Health (ICIMH) brought together 900 people from 26 different countries to bring collaboration into action. The Harvard Osher Center, as well as the rest of the Osher Collaborative and the Boston integrative medicine network were well represented at the ICIMH. Osher Center Directors, Dr. Helene Langevin and Dr. Peter Wayne, delivered plenary talks on connective tissue research and mind body medicine research, respectively; and Dr. Darshan Mehta led a break out session on clinical resilience and reducing burn out. The Osher Collaborative had 50 members in attendance, representing all 6 of our United States based Osher Centers, and nearly all Collaborative attendees were presenters. Boston-area clinicians and researchers led about a quarter of the break-out sessions either individually or in a group.
Content:
Drs. Langevin and Wayne Plenary Talks

The video recordings of Dr. Helene Langevin and Dr. Peter Wayne's plenary talks at the ICIMH are coming soon. Dr. Langevin presented "Connective Tissue: Putting the Body Back Together Again" and Dr. Wayne presented "Bringing the Body Back into Mind-Body Research ".

ICIMH Summary
Read a Summary of the ICIMH from Margaret Chesney, ICIMH organizier, Core Research Faculty at UCSF Osher Center and Professor at UCSF School of Medicine.

Research Posters from Harvard Osher Center
Young Osher Investigators at ICIMH, 2018
Research posters were presented by two of Dr. Wayne's research assistants, Audrey Hernandez and Kamila Osypiuk. Harvard Medical School student, Garrett Conyers, also presented his scholarly project with the Osher Center. Read their abstracts here.
T-32 Post-Doctoral Fellows Present at ICIMH 2018
The Osher Center and Beth Israel Deaconess Medical Center leads the Harvard Medical School T-32 post doctoral research fellows in integrative medicine. Four of the six fellows presented seven posters at the congress. Their research abstracts are available here.

The Osher Collaborative at the ICIMH
Nearly 50 members from the Osher Collaborative attended the ICIMH. Learn more about collaborative members participation at the congress and pictures from the event on the Collaborative's post: Osher Collaborative at ICIMH 2018.

Breakout Sessions with Boston Area Researchers
Nearly a quarter of the breakout sessions were led by Boston-area researchers, either individually or in a group. Click the links below to view the abstract and presenter(s) for each session.
Image Gallery